Many IT professionals find the costs of Azure VM pricing quite bewildering. Naturally, you expect to benefit from locating your desktops in the cloud and gain from a flexible desktop infrastructure in terms of hybrid working, BYOD and a more dynamic approach to the Covid 19 pandemic. But, it is unlikely that Microsoft will reduce your costs just for you (but you never know). In this article, we walk through some examples of Azure VM pricing and then look at how to cut around 65% of these costs.
Azure Pricing
The challenge with Azure and other cloud vendors' pricing is that you are quite often paying for a 24×7 service whether you need it or not. You can get a discount for 'reserved instances', which is great, but this does not really help with desktops because of the intermittent nature of their use. In addition, reserved instances discount the compute costs but do not save you anything on storage which is a significant component of cost.
The number and complexity of the server/instance options are bewildering. We know of at least one customer being significantly 'oversold' on the server type that he needed, potentially costing him over $100,000 more per year than he needed to pay.
From the image of the Azure calculator below, you can see the incredible number and variety of server types available (these are about 10% of the options)!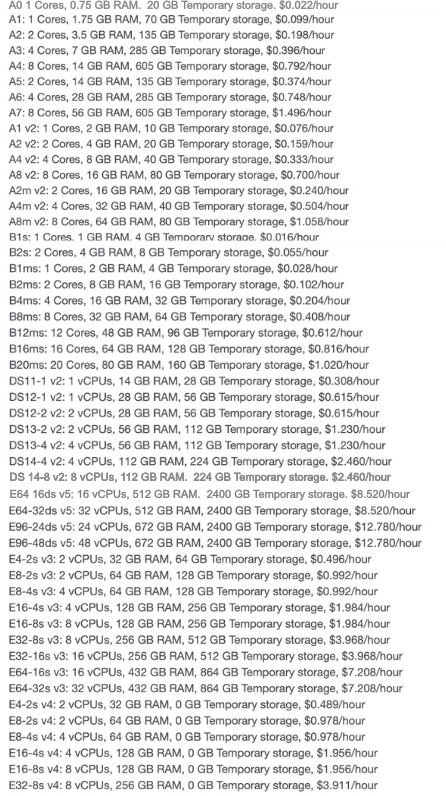 Azure Pricing Calculator
Microsoft provides a useful online pricing calculator which can give you an indication of likely costs. However, it is almost impossible to accurately predict your actual requirement for the instances that your organisation will need. In fact, you are in danger of making massive errors in terms of instance numbers and size. Mistakes here could cost you hundreds of thousands of dollars.
Accurately estimating instance numbers depends on:
The number of users
Whether they are persistent or non-persistent and can share the servers
Size of instances (processor, memory etc.)
The kind of workloads and memory they will need
Assuming you have the right server/instance configuration, your costs will probably be much higher than expected and certainly higher than you want them to be.
Here you can see a 100-user estimate. The configuration is somewhat arbitrary but should fit the bill:
10 D4s v3 (4 vCPUs, 16 GB RAM) x 730 Hours
Windows – (OS only)
Pay as you go
0 managed disks – S4, 100 transaction units
Inter-region transfer type, 5 GB outbound data transfer from UK West to East Asia
It shows the cost at $3,053.75 per month or roughly $360 per user per year. The cost is for 24 x 7 usage and therefore 24 x 7 billing.
In reality, for any organisation, most users are only actually at work and active for a maximum of 35% of the time, given time to sleep and weekends off!
100 Users (10 Instances)
For a 100 User service, your annual costs would be over $36,645 for your Azure public cloud service.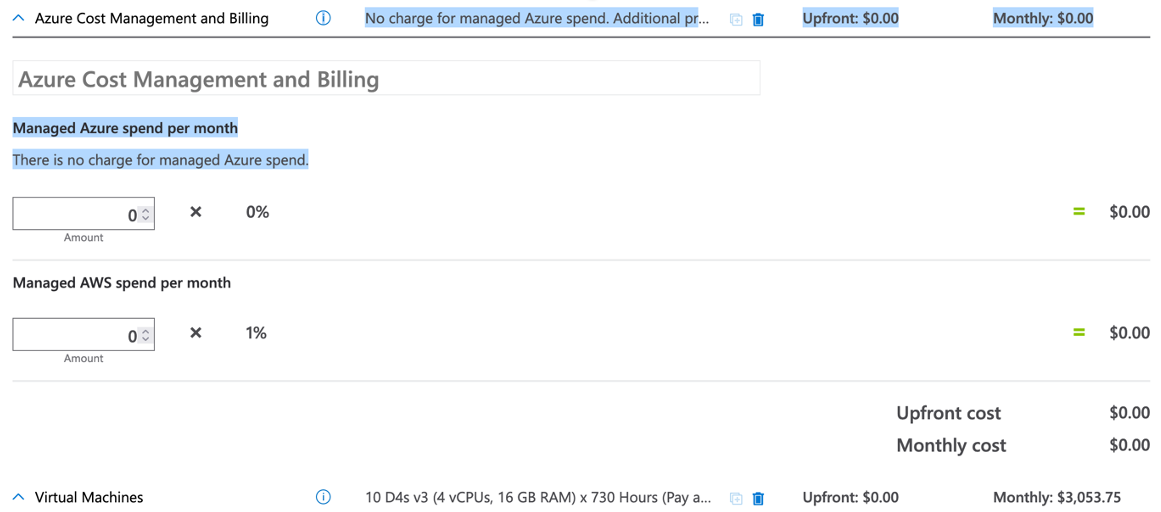 250 Users (25 instances)
For a 250 User service, your annual costs would be over $91,000 for your Azure public cloud service.

1000 Users (100 instances)
For a 1000 User service, your annual costs would be approximately $364,608 for your Azure public cloud service.

The number of instances/servers has been a significant challenge for administrators who used to just simply over-provision when the infrastructure was in their own on-premises datacentres. However, over-provisioning is simply not financially viable in the public cloud world for cost-conscious customers.
So, the challenge is to give administrators control and accuracy over their cloud desktop provisioning and their Azure VM pricing.
You can do this with Cycloud.
Azure Savings Calculator
Cycloud has two specific methods of provisioning and deprovisioning. If you look at the Azure cost savings calculator, you will see that the savings are startling for each of the scenarios above.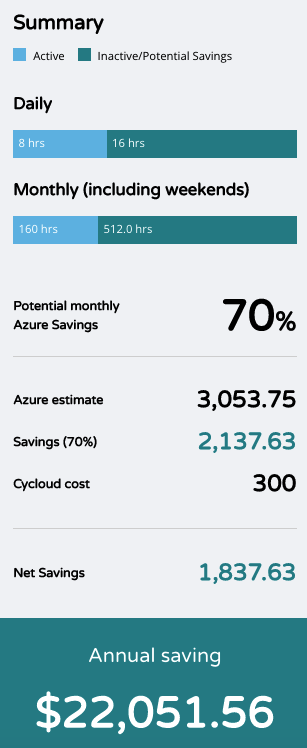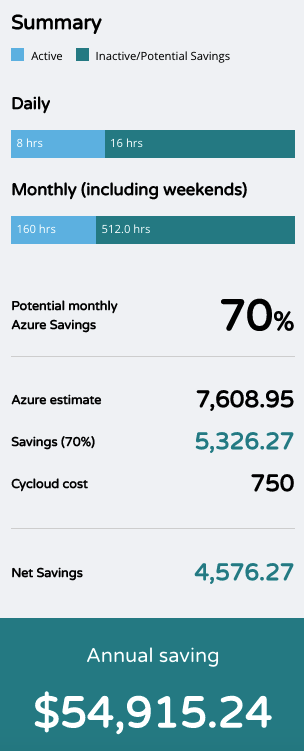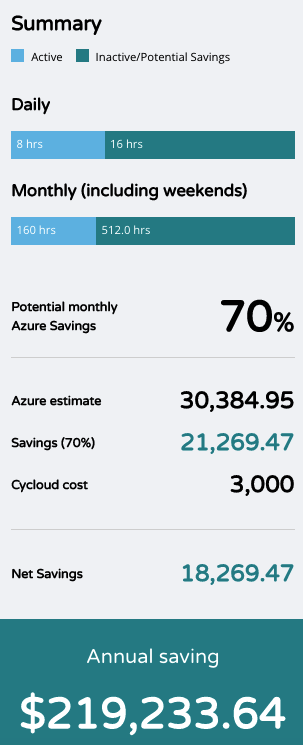 Scheduled
Cycloud creates and eliminates Azure cloud instances when your staff are not working. This saves 65% and 70% on an eight-hour workday, five days per week.
Robotic
Automatically scales your cloud infrastructure to suit your actual user requirements and dynamically de-provision instances as your users log off during the day. This saves you even more, depending on how your users are working. (User retention ensures that servers are not de-provisioned when users are active).
Therefore organisations could save at least 65% before the small cost of Cycloud cloud provisioning at approximately $40 per year. Robotic provisioning features will actually size the number of instances needed, so you will experience significant additional accuracy and efficiencies. Robotic deprovisioning reduces your instance requirement dynamically as your staff log off during the working day, delivering incremental savings.
See It in Action and Cut Your Costs
If you are currently or thinking about running your desktops in the cloud and you want to ensure that you are getting the best value for your money or you just simply want to get control over your non-persistent cloud desktops, we would be happy to demonstrate what Cycloud can do and set up a proof of concept to show how quickly you could be up and running.